Marge's Donut Den
Every time you visit our Grand Rapids, Michigan bakery you will be greeted with a warm greeting from our friendly staff and aroma of our hand-made confections.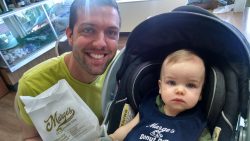 August Cake of the Month
Dad is starting Clyde out right with a trip to Marge's.  Cruise into Marge's the entire month of August for an extra special cruise cake.  8″ cake, one layer of white, one layer of chocolate, with a photo of an old car on top, $18.00 each.  Cruise butter cookies also available all of August, $2.50 each.
Come where you can meet old friends and make new ones.
Since 1975 Marge's Donut Den has been making donuts and baked goods with the slogan "Quality Comes First" and have since developed a loyal following who believe she makes the best baked goods anywhere.
Marge specializes in wedding cakes and corporate cakes, but she also has a large variety of delicious brownies, cookies, muffins, danishes and cupcakes. Marge is known to be very creative in her designs. Marge has always believed that when you make a quality product, people will come back for more.